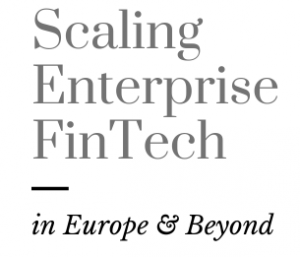 Scaling Enterprise FinTech brings together the insights on sales & business development, (US) go-to-market and fundraising from the founders, investors and financial institutions behind Europe's leading Enterprise FinTech scale-ups. Read on below for why we are doing this and check out the first set of interviews. Email contact (at) fintechforum.de or reach out to Samarth Shekhar via LinkedIn if you would like to learn more or get involved.
Scaling Enterprise FinTech: with Christian Nentwich, Duco 
Scaling Enterprise FinTech: with Steve Toland, TransFICC
Scaling Enterprise FinTech: with Nicolas Christiaen, Cashforce
Scaling Enterprise FinTech: with Marcus Polke, signals Venture Capital
---
About Scaling Enterprise FinTech
When we launched the FinTech Forum website and event series in 2013, FinTech was almost synonymous with "disruptive", direct-to-consumer financial services providers. Over the last few years, however, the lines blurred:
several "disruptive" B2C FinTech players moved to (or added) a white-label B2B or B2B2C model
SaaS offerings began to "package" B2C trends targeting banks or insurers (the "Enterprisation of Consumer"?)
financial institutions spun off or acquired FinTech players, while BigTech, Super-apps, Retailers, Telcos etc. launched "embedded finance"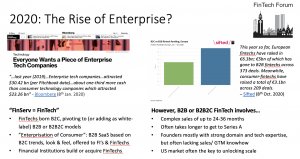 In this constantly unbundling and re-bundling landscape, we define Enterprise FinTechs- Enterprise Technology or SaaS providers that serve financial institutions, FinTechs or other corporates (to differentiate from the term "B2B FinTech" which could refer to startups offering financial services to businesses).
Enterprise FinTech players have been around for decades, but the FinTech revolution has broadened the opportunity set way beyond classical financial institutions. As more and more B2C innovations get road-tested, and B2C startups partner with or white-label their offerings for others in the race to scale, distribution and profitability, we think it is time for the "Rise of Enterprise", as the numbers above begin to show.
Most founders of Enterprise FinTech firms come with deep domain and technology knowhow to create the right products, but scaling up sales, business development and (international) go-to-market is a different ballgame in the Enterprise space. With (almost) no "freemium", complex sales of up to 24-36 months, a much longer journey to Series A, and the pressure to expand into the US market (particularly for Europe or Asia-based startups), there is not a single boring moment here.
While there is plenty of information out there about building and scaling B2C startups or "horizontal" SaaS success stories out of Europe, scaling a world-class Enterprise FinTech firm remains a dark art. We are out to change this, with the help of those who have been there and done it.