When we launched the FinTech Forum website and event series in 2013, FinTech seemed synonymous with "disruptive", direct to consumer financial providers.
Over the last few years, however, the lines have blurred, with several "disruptive" B2C FinTech players moving to (or adding) a B2B or B2B2C model. SaaS offerings that "package" B2C trends are targeting banks or insurers (a kind of "Enterprisation of Consumer"), and financial institutions are spinning off or acquiring tech plays.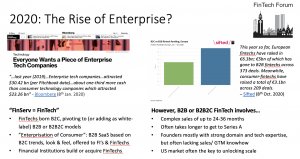 However, scaling Enterprise FinTech (defined as Enterprise Software or SaaS providers that serve financial institutions or other FinTechs – to differentiate from "B2B FinTech" which can also mean startups offering financial services to businesses) is a different ballgame, with (almost) no "freemium", complex sales of up to 24-36 months and startups taking longer to get to Series A. While Enterprise FinTech founders (mostly) bringing in strong domain and tech expertise, they often lack sales and go-to-market knowhow, and – particularly if they are based in Asia or Europe – are under pressure to expand into the US market to unlocking scale.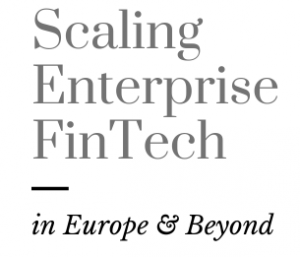 Scaling Enterprise FinTech brings together insights on sales & business development, (US) go-to-market and fundraising from the founders, investors and financial institutions behind Europe's leading Enterprise FinTech scale-ups.
Check out the first set of interviews below, and send us your feedback/ contact us: email contact (at) fintechforum.de or reach out to Samarth Shekhar via LinkedIn.
Scaling Enterprise FinTech: with Hans de Back, Finch Capital