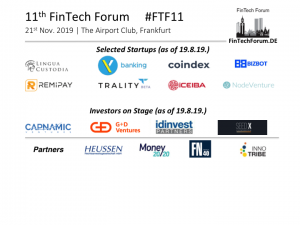 Startups: apply to pitch- email us on contact (at) fintechforum.de or reach out to us via LinkedIn: Frank Schwab  |  Samarth Shekhar . NOTE: if accepted, startups receive a link to register via Eventbrite (€190+VAT).
Investors/ Corporates may register directly on http://ftf11.eventbrite.com or click below (€390+VAT for Investors & Financial Institutions; €990+VAT for Corporates):
 About
FinTech Forum launched in 2013 as an event series and community bringing together the most promising FinTech & InsurTech startups with investors.
With 19+ events till date, 290+ startups have been on stage presenting to 1200+ investors and financial institutions.
Alumni have gone on to raise $600m+ in funding as of end-2018.
Our newsletter and social media network counts 12000+ members and growing!

About
FinTech Forum launched in July 2013, when the term FinTech was little known or funded outside of the US and the UK, as we complained in our first blog. Our first call for startups was – roughly translated  into English – "FinTech Forum is looking for new rabbits looking to change the world of finance"!
Fast forward to the 10th FinTech Forum– also our 5th anniversary edition: 10th FinTech Forum shows the next wave of FinTechs, investments, partnerships and M&A is here 
The 11th FinTech Forum seeks to identify innovators, disruptors and "hidden champions" in the European financial services sector, and bring them together with investors and financial institutions.
Agenda
10:00 – 10:30 Event Registration
10:30 – 10:40 Welcome Note: Frank Schwab, Co-Founder, FinTech Forum
10:40 – 10:50 FinTech Deal Highlights: Samarth Shekhar, Co-Founder, FinTech Forum
10:50 – 12:00 Startup Pitches I
12:00 – 12:30 Guest Speakers
Matthias Jäggi, SeedX Lichtenstein
Assaf Shamia, Giesecke+Devrient Ventures
Christian Knott, Capnamic Ventures: Connected Finance: Banks Prepare for an Open Banking Future
12:30 – 13:30 Buffet & Networking
13:30 – 14:30 Startup Pitches II
14:30 – 15:00 Coffee & Networking
15:00 – 15:20 Guest Speakers: TBA
15:20 – 16:00 Panel Discussion
16:00+ Networking Drinks
Highlights from the 10th FinTech Forum
(Completed: 22nd Nov. 2018)
Agenda
10:00 – 10:30 Event Registration
10:30 – 10:40 Welcome Note: Frank Schwab, Co-Founder, FinTech Forum
10:40 – 10:50 FinTech Deal Highlights: Samarth Shekhar, Co-Founder, FinTech Forum
10:50 – 12:10 Startup Pitches I
AAZZUR
advinda
BITA
CCEX
CrowdDesk
DACEBOOK
finbc
Imburse Payments
12:10 – 12:30 Keynote: Thorsten Terweiden, InvestHK
12:30 – 12:45 Essential lessons from Germany's first FinTech: Laurens Mauquoi, Smava
12:45 – 13:45 Buffet & Networking
13:45 – 14:00 Financial Services innovation by Be TSE: Dirk Fuchs, Be Think, Solve, Execute
14:00 – 14:10 Creating a loyalty platform with financial services: Bernd Wendln, Miles & More
14:10 – 15:20 Startup Pitches II
ForexFix
Fractal Blockchain
Growney
JUNIUS Capital
Neon Banking
RYSKEX
XTECH
15:20 – 15:35 Coffee Break
15:35 – 16:05 Panel Discussion: German FinTech, Outside Backers- Fast Forward 2023
Andreas Thümmler, Acxit Capital Partners
Dr. Christian Nagel, Earlybird Venture Capital
Hans de Back, Finch Capital
Kerstin Eichmann, Innogy Innovation Hub
Paul Morgenthaler, CommerzVentures
Moderators: Frank Schwab & Michael Mellinghoff
16:05 – 16:20 Fireside chat: Nektarios Liolios- 5 years accelerating FinTech globally (with Michael Mellinghoff)
16:20 – 16:30 FinTech Forum Retro- 5 Years in 10 Minutes: Samarth Shekhar
16:30+ Networking Drinks
Presenting Startups "in a Tweet"
AAZZUR is an intelligent account aggregator with a functionality layer, where customers connect their accounts thanks to PSD2 and OpenBanking, tailored to international customers. They have acquired live Alpha customers already, and were part of the TechStars Berlin program (2018).
advinda is disrupting how the Alternative Investment industry raises institutional capital- a simple CRM solution combined with proprietary investor intelligence on more than $68 trillion AUM in the cloud.
BITA, is "the S&P of crypto indices"- the first professional index and data provider in the digital asset space to develop, calculate and disseminate real-time indexes and proprietary datafeeds covering the digital asset universe.
CCEX Cloud Commodities Exchange enables Cloud Computing Resources e.g. IaaS, PaaS, SaaS, etc. to be traded similar to traditional commodities such as crude oil, gas, electricity, etc. via already existing exchanges
CrowdDesk offers "full-service Fundrasing-as-a-Service: digitised and standardised issuing and investment processes for SMEs, startups or public agencies who need to raise capital through the crowd". Cooperation with GLS Bank on Europe's first crowd-investing platform of a bank.
DACEBOOK– Digital Asset Class Exchange Book (TM) enables institutional investors to onboard, trade and process Digital Asset Class (DAC) products with enterprise grade vendor data and smart technology solutions.
finbc is the P2P receivables exchange and financing platform for SME on the blockchain, enabling international invoicing and payments- both regular or cryptocurrency- right out of the ERP system.
ForexFix offers easy and fast hedging against currency fluctuations for small and medium businesses who are doing business internationally and have costs or revenues in foreign currencies. Our service is easy to use and less expensive.
Fractal Blockchain offers on-boarding and payment software for Token Launches (ICOs) – a multidisciplinary, international endeavour- with a focus on compliance and usability.
Growney is a digital Investment Advice company with a transparent, cost- effective and simple product for retail customers in Germany. They recently signed a cooperation with Signal Iduna, and receives high ratings from the independent non-profit consumer website FinanzTip.de.
Imburse Payments is "the first end-to-end platform to solve customer value challenges at transaction level using AI/ML to optimise the offer/transaction technology combination". With 3 committed PoCs, they have won "Best Pitch" at Swiss Fintech event and accepted to the Plug n Play Europe Batch 0 (Insurtech).
Neon Banking is Switzerland's 1st independent #mobile bank–free banking, offering simple, mobile and free everyday banking – free current account linked with Debit MasterCard and variety of third party products. They recently announced a cooperation with Hypothekarbank Lenzburg.
RYSKEX is the next level of RISK EXchange, offering a hedging platform for insurance risks embedded in a B2B ecosystem. It brings together risk management units and institutional investors via a blockchain-based P2P approach supported by AI and an own token.
XTECH is a German cryptocurrency exchange, enabling access to the hottest coins in the cryptocurrency ecosystem to both professional and amateur traders.
is building the first fully regulated index replication mechanism for ETF crypto investing based in Germany.
Participating Companies
AAZZUR
Acxit Corporate Finance
advinda Investor Cloud
Aigang
BDK Bank
Be Think, Solve, Execute
Bita Data
Börsen Zeitung
CCEX Cloud Commodities Exchange
City Eschborn
CrowdDesk
DACEBOOK
DC Placement Advisors
DVFA
Earlybird Venture Capital
finbc
Finch Capital
First Momentum Ventures
Forexfix
Fractal Blockchain
Growney
Hasso Plattner Institute
HighTech Gründerfonds
Helaba Digital
Heussen Law
Imburse Payments
Innogy Innovation Hub
InvestHK
KfW Capital
Lufthansa AirPlus
Miles & More
Nagarro
Neon Banking
Ryskex
smava
Specific Group
Trendlink
Wüstenrot Bank
XAnge Venture Capital
XTECH.ai
yabeo Management
+ several Business Angels
Previous Events
10th FinTech Forum: Franfurt, Nov. 2018. Event summary: 10th FinTech Forum shows the next wave of FinTechs, investments, partnerships and M&A is here
FinTech Forum On Tour | UK FinTech meets Germany: Frankfurt, Mar. 2018. Event summary: http://www.fintechforum.de/event-summary-ftf-on-tour-uk-fintech-meets-germany/
9th FinTech Forum: Frankfurt, Sep. 2017. Event Summary: FinTech Forum's 4th anniversary edition- a reflection of European FinTech's successes and travails
FinTech Forum On Tour | InvestTech: London, Apr. 2017
FinTech Forum On Tour | FinTech meets Telecom: Frankfurt, Mar. 2017
8th FinTech Forum in Tweets: Frankfurt, Nov. 2016
FinTech Forum On Tour | FinTech meets Travel: Neu-Isenburg, Sep. 2016
FTF On Tour | Robo Advice in Tweets: Berlin, Jun. 2016
7th FinTech Forum in Tweets: Frankfurt, Apr. 2016
6th FinTech Forum in Tweets: Frankfurt, Nov 2015
FTF On Tour | InvestTech in Tweets: London, Sep. 2015
5th FinTech Forum- A Summary: Vienna, Jun. 2015
4th FinTech Forum in Tweets: Frankfurt, Apr. 2015
3rd FinTech Forum in Tweets: Frankfurt, Nov. 2014
2nd FinTech Forum in Tweets: Frankfurt, May 2014
1st FinTech Forum– A Summary: Frankfurt, Nov. 2013
Location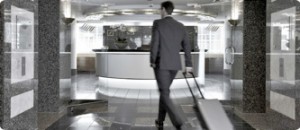 Airport Club
Frankfurt Airport Center I
Flughafen
Frankfurt am Main
Anfahrt (PDF zum Download hier)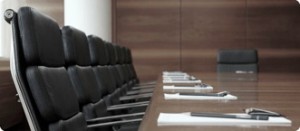 Email
Kontakt@FinTechForum.de