FinTech Forum On Tour combines the simple but succ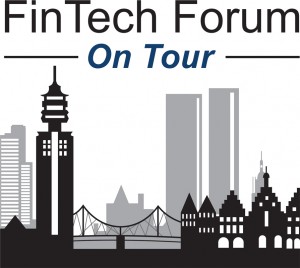 essful format of FinTech Forum with our award-winning research and scouting to connect financial institutions, investors and tech firms to the most promising startups relevant to your focus area or initiative- via tailored digital or physical events.
Check out a selection of our projects, or contact us for inspiration! Email: info@techfluence.eu.
SPOTLIGHT: FTF On Tour | UK FinTech meets Germany (22nd Mar. 2018, Haus Metzler, Frankfurt am Main)
In partnership with the Department of International Trade, the British Embassy Berlin and Frankfurt Main Finance, TechFluence organises the FTF On Tour | UK FinTech meets Germany, bringing together top-notch UK FinTech startups addressing "real and present" challenges and opportunities for German banks.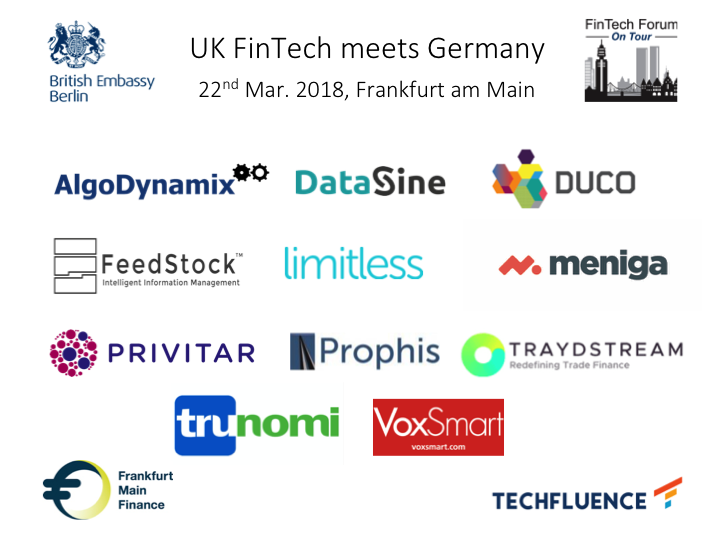 #UKFinTechDE: Presenting Startups "in a Tweet"
Trunomi unlocks the power of customer data using consent and data rights management, solving GDPR and Data Privacy.
Traydstream revolutionises Trade Finance by digitising and automating the trade documentation process.
Privitar is a privacy engineering company that enables organisations to safely use, share, and derive insights from data.
Meniga White-label innovation platform enables banks to transform engagement & develop new revenue streams.
Duco offers an award-winning hosted reconciliation service, enables firms to control complex data using light-touch, self-service technology
AlgoDynamix is a pioneering portfolio risk analytics company focusing on financially disruptive events, for investment banks and asset managers.
Prophis captures complex linkages in a graph database and identify hidden transmission mechanisms in financial data.
Voxsmart is an award winning multichannel mobile compliance platform for heavily regulated industries.
DataSine offers a client segmentation tool combining big data and psychometrics to help financial institutions understand their clients.
FeedStock provides cutting edge research tracking and inducement management software for investment professionals
Limitless helps banks and financial institutions engage millennials with a micro-investment and saving app.
COMPLETED EVENTS
FTF On Tour | High-Tech meets Finance (30-31 May, 2017, Bonn) 
Startups are taking on financial services, but where is the Tech in FinTech? Which up and coming high-tech startups could change the game in financial services?
FinTech Forum | On Tour partnered with HighTech Gründerfonds, Germany's most active venture capital fund (with over 460 investments made from funds totalling over €820M), to select the startups that financial institutions and (FinTech-focused) VCs should be watching.
Check out the pitch videos here: https://www.youtube.com/watch?v=urmP-p7ps8U&list=PLWhwnqMNB-z0h0eF3uK3igSJUlGwivHQC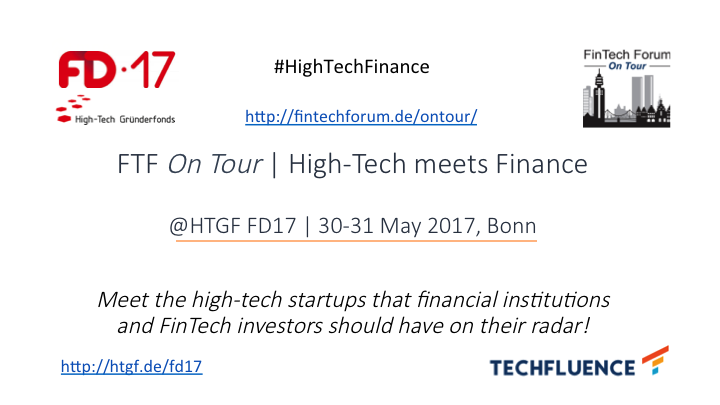 At the HTGF Family Day, the annual invitation-only event of HTGF on 30-31 May, 2017 in Bonn, we interviewed eight startups, of which a couple are focused on financial services, but most are active in other sectors but offer interesting use cases for financial services:
use your voice, gestures, or even the gaze of your eyes to intuitively control your computer
a profitable Fintech SaaS company offering Financial Services for over 700 nonprofit organizations
enabling the pay per use leasing and rental market by linking manufacturers and financial services providers
an AI-driven visual search software that recognises products by taking a picture within seconds and takes you to the purchase options
the world´s first logical data warehouse: access and model data from multiple data sources
a customisable employee rewards prepaid card – with 150.000 cards in the market and growing with 300 cards sold every working day.
an API banking service that provides third parties access to more than 3,200 financial sources in Germany and Austria
an easy-to-setup, high security cloud provider offering an easy administration interface for even complex IT-services
Feel free to reach out to the startups directly or drop us a line at contact@fintechforum.de.
Big thanks to FinTech enthusiast Varsenia Stoyanova who volunteered to support us with the videos and the event update!
FTF On Tour | InvestTech 2: 28th Apr. 2017 | EY Auditorium, Canary Wharf, London
A recent market survey by TechFluence identified more than 64 robo advisors in Europe (see map below). However, that is just a part of the innovation in the digital investment and wealth management. The second edition of our FTF On Tour | InvestTech event (read about the first  event held in Sep. 2015), brings together Europe's leading startups and hidden champions in this space with investors and financial institutions. Register here: ftfinvesttech2.eventbrite.com
Further reading: Number of robo advisors in Europe increases to 73; 26 in Germany.
FTF On Tour | FinTech meets Telecom (invitation only): 23rd Mar. 2017 | The Airport Club, Frankfurt Airport.
The rise of young and mobile millennials as well as a tech-savvy older generation in Western Europe, a young, "underbanked" Central & Eastern Europe, a slew of recent deals  and the EU Payment Services Directive 2 (PSD2 – due Jan. 2018) can change the game for Telecoms as well as for Banks in the coming months. FTF On Tour | FinTech meets Telecom, is the first initiative to bring together FinTech startups with investors, telecoms and financial institutions looking to tap into these emerging opportunities in Europe.
More information: https://fintechmeetstelecom.eventbrite.com | Contact: info@techfluence.eu
FTF On Tour | FinTech meets Travel (invitation only): 6th Sep. 2016 / 09:30 – 17:00 | Lufthansa AirPlus International, Dornhofstraße 10, 63263 Neu-Isenburg (Frankfurt).
The Travel & Tourism business is a $8tn market accounting for nearly 10% of the global GDP (Source: WTTC). The corporate travel sector alone is a $1tn behemoth, with over 200 mn travelers making nearly 4 bn business trips. New technologies and the "sharing economy" are transforming the way travelers book and pay for travel and hotels, taxis and restaurants, as well as the associated insurance and reimbursement. This inaugural FTF On Tour | FinTech meets Travel event brings together  the most promising startups and "hidden champions" at the intersection of travel and finance with leading investors, financial institutions and corporates.
More information: http://fintechmeetstravel.eventbrite.com
FinTech Forum On Tour | Robo Advice (invitation only): 08th Jun. 2016 / 08:30 – 17:00 | Deloitte Greenhouse, Kurfürstendamm 23, 10719 Berlin.
FinTech Forum On Tour | Robo Advice is the first pitch event focused on European Robo Advice startups and hidden champions. Coined under the term "Robo Advice", a growing number of  startups are transforming the asset and wealth management industry via automated advisory and portfolio management, hybrid models, as retail services in competition with incumbents or partners for traditional firms, such as banks, asset or wealth managers, but also players from the non-finance segment, the event will bring together twenty startups in with leading investors and financial institutions.
More information: http://ftfrobo.eventbrite.com | Contact: info@techfluence.eu
FinTech Forum On Tour | BNP Paribas (closed / invitation only event): 22nd April, 2016 /10:00 – 16:30 | Schloß Löwenstein, Schloßpark 1, 63924 Kleinheubach, Germany
A closed, invitation-only event that brought together some promising startups in Continental Europe with the BNP Paribas' innovation and management teams in Germany. The selected startups came from Switzerland, Netherlands and Germany, showcasing innovations across corporate payments and blockchain, treasury, leasing, social media compliance and risk management. Startups had the chance to pitch to an audience of 60+, followed by deep-dive break-out sessions to select the "Most Relevant", "Most Innovative" and "Hidden Champion" startups.
FinTech Forum On Tour | InvestTech: 25th Sep. 2015 / 10:00 – 17:30 | EY Auditorium, 25 Churchill Place, Canary Wharf, London E14 5RB.
InvestTech startups are transforming the asset and wealth management sector via automated advisory, digital / social trading, digital investment management, analytics etc. The first success stories are in the US, and emerging in the UK. However, several promising (Continental) European players are still under the radar. FTF On Tour | InvestTech is an invitation-only event run by our sector experts to accelerate promising "InvestTech" Startups in (Continental) Europe, together with leading investors, financial institutions, mentors etc. Contact: contact@fintechforum.de or connect to Samarth Shekhar or Michael Mellinghoff.