FinTech Forum launched in July 2013, when the term FinTech was little known or funded outside of the US and the UK, as we complained in our first blog.
Our first call for startups was – roughly translated  into English – "FinTech Forum is looking for new rabbits looking to change the world of finance"!
Fast forward to a summary of the 9th FinTech Forum – also our 4th anniversary edition – and the below chart capturing what our alumni have been up to in hard numbers, or  head to our Scoreboard for more.
We didn't know where we would be four years (or even one year) later, but if you are an early stage FinTech startup, we – and our network of business angels, VCs and corporates – are always looking for you!
Drop us a line at contact (at) fintechforum.de if you would like to apply for our next FinTech Forum or FTF On Tour event,  or for our "7 Questions…" series which have featured over 75 founders and investors till date, or if you have any questions.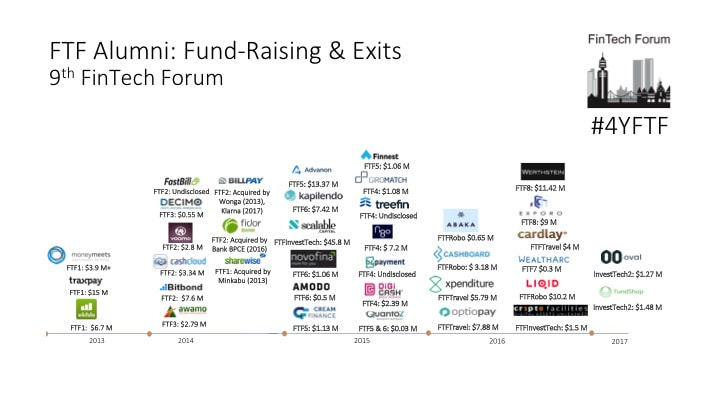 More here: http://www.fintechforum.de/scoreboard/